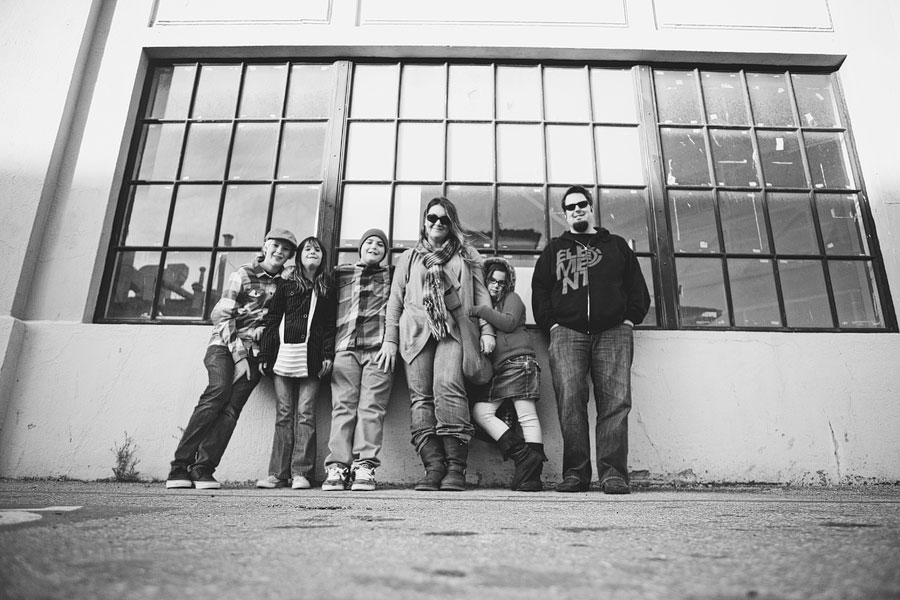 November.
This family image was taken in San Francisco right after ingesting a whole crab and bowls of clam chowder and pasta and long island's and cherry cokes. I remember the light outside being soft pink. I was in love with that light, I wanted to eat it. We were walking, and I saw this building and the light on the windows, and I asked if we were feeling up to a self timer shot. We were.
Progress is being made in the front room. My plan for this space is to get all large pieces second hand. (Side note: Jeff would like me to stop using words like "space" and "piece".) I don't want to spend a lot of money. I LOVE the hunt and the thrill of the find. I want the character of something old and loved. I have been searching Craigslist since the summer for a sofa. I have discovered that I am a couch snob, okay? Also that I think couches are ugly. And that people on Craigslist lie, lie, lie. Ugh, what to do? I was about to give up, disheartened with the amount of couches listed as "beautiful vintage in great condition" only to click on the link to see "90's floral Ethan Allen with matching curtains and a stain". Newsflash: the 90's are vintage you guys. And I have clicked on so many ugly couches you guys. (Suburban housewife problem.) I was moments away from shooting nasty, disgruntled emails off to those types of sellers when I came across the one. The. One. THE ONE. She was true vintage. Living with her second owner. The exact ugly green of my dreams. A sectional. The perfect dimensions for our oddly sized room. She also had a chair that came along with her. I saw her picture and I knew she was mine because my blood pressure spiked. I played it cool, knowing she would go fast at this price, knowing how slim the pickings are for this type of piece. They were asking $500, I got her for $250, delivered. She has some water damage, but that part goes against the wall. She has adorable little teak legs. She turns gold in the afternoon sun, and beckons to be lounged on. And a lot like my record player, I have become very attached.
Around the same time that she came home to me, friends of ours remodeled their living room. Friends whose living room housed the most perfect coffee table. I have literally coveted/had my eye on this coffee table for many years. I jokingly called dibs on it the last time I was at their house. Well, I got so lucky because I had just brought my new couch home when they emailed to let me know they had a new coffee table, and that I could come get the old one. It's this big wooden square and it fits perfectly in the corner of the new couch. It warms up the room with it's worn out rounded corners that aren't supposed to be rounded.
There is still much to do in the front room: a book shelf or piano perhaps, art for the walls, rug, lighting, and something to fill up the awkward corner, but for now I am just so grateful to have made this progress. Record player, couch, coffee table. Trifecta of Tara happiness.
Of note: we took Drew to a high school preview day. Pick me up off the floor.
We had photo shoots, art classes, haircuts, guitar lessons, musical performances, and basketball camp.
We flew up to San Francisco for the thanksgiving break. It is becoming a tradition for us to go away together for Thanksgiving and I hope to be able to continue it. I have visions/daydreams of keeping up with it into the adulthood of our children, and meeting everyone in exotic and interesting locations every year. Friends, girlfriends, boyfriends, wives, grandchildren. Who knows? I think traveling makes Thanksgiving even more cool than it already is. I did miss smelling/eating turkey and stuffing though, so when we got back into town I made my own, for the very first time. I was hoping to be at least 50 before having to do my own bird, but now that I've done it I don't know what I was afraid of. Actually I do know what I was afraid of, so Jeff cleaned the bird for me. I made my mom's stuffing recipe, mashed potatoes, green beans, cranberries. The six of us had the most cozy day, watching old movies downstairs as the oven chugged. (Miracle on 34th street and the original Superman were a couple of the ones we picked.) One of my memories will be me in the kitchen with an apron on over my pajamas, my hair tied on top of my head in a knot. Another one will be of Jeff across the table, candles flickering, smiling at me. This day was a treasure.
The pox continued. The boys broke Jeff's $100 headphones. The smoke detectors all started chirping at once. My back molar cracked into pieces during the previews for Tangled, while eating popcorn, and the dentist almost had to pull my tooth. The kids bathroom light and fan stopped working. I ran over, and broke, a sprinkler in our front yard with my car. Our car's programmed gate/garage buttons stopped opening both of those things. Jeff's Prius keys died. The back burners on my stove decided to stop lighting. Nathan's violin strings snapped. Mckenna broke the record player in record time, only a few weeks into owning it. Everything else I could handle with some kind of patience, but that felt like a final straw. I felt it's absence so deeply for so many days that Jeff convinced me to go buy another one right away instead of waiting for the original to get fixed and shipped back to us in a month. (Once the original is fixed we will be giving one of them away. Or using it as a backup, which may be a smart idea with Mckenna the wrecking ball around.) Where is that bubble wrap?
On November 5th, Jeff and I tallied up fifteen years of marriage. Eighteen years as a couple. Neither of us are perfect, but oh how he charms me. I have known him since we were children, and it is a shock to realize it has been eighteen years. It seems like yesterday and like an eternity ago all at once. How can we have gone through everything we have and yet wasn't it just yesterday that we were snogging in his Honda Prelude in my parent's driveway? I feel young and I feel old. Sometimes I look at him and I am overcome with the knowledge that this is all temporary and yet I depend on it so much. This love that I have, this life that I love is always changing. Right now it feels very fragile to me. I have so much to lose.
Holding on with both hands,
xo
Tara