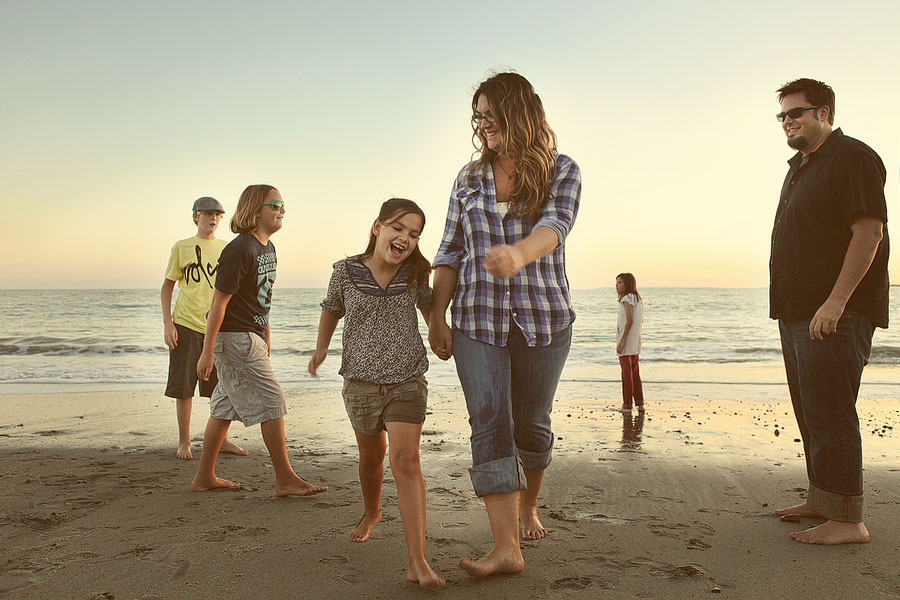 This family image was taken by Maile Wilson on 8/31. Posted about here. This is probably my favorite family image from our time with her, because I just love how Jeff is looking at us. And how candid it is. And how brown we all are. And my hair looks pretty rad, which is always nice. This photo wraps us up pretty nicely, even Mckenna – slightly on the outside but happier there, away from our noise.
So, August.
I am so late to class for August.
After an emotional/hard/draining July, August came quiet and thoughtful.
You really have to go through pain before you can move into a new phase, a new place in your head or your heart. So often I am scared of that pain, afraid it will overwhelm me – ruin my life or my day. I hide from it, avoid it, make poor choices in order to stay numb to it. When I do that, the pain just takes hold. It moves in like a wasp's nest, constantly buzzing about my head. Something you know you have to deal with, but are afraid to because you don't want to get stung. I am learning more and more that accepting those feelings and letting myself feel them is the way I want to go.
When you give yourself permission to feel what you feel, it is giving yourself permission to be who you really are. There is a peace in that, and a sincerity that feeds you.
It is the best way that I know to take care of myself.
A lot of the pain I was in had to do with Mckenna. A lot of the pain had to do with the kids growing up. A lot of the pain was personal. I felt it. I got through it. I wanted something more.
This process has changed the inside of me. And I like it.
I have realized how completely in charge I am of how my life works. You always kind of know this, I mean, no one is cooking dinner and editing photos but me. But you also kind of think that someone else is going to come along and take care of things for you. Our core need is to be taken care of. For the first time, I truly feel in charge. Like an adult. I can do whatever I want, I can make my life whatever I want it to be. I am fiercely protective of how I spend my time. I want most to spend it with the people who live in my house. I am realizing I don't have to live my life like everyone else, just because it's "what you do". Because of 'shoulds' or ideas that no one even questions. Most people don't even understand why they believe what they believe. It is just what they do, what their parents did, what their neighbors do as well. They don't want to be challenged, they just keep plodding along. I want to learn and understand about the choices I make. I want to learn and understand about my children. I want to learn and understand more about the world.
But back to the point. August. August was welcomed. In August we settled into the routine of Summer and enjoyed every last second we had left. I feel like I really got to live like the mom I want to be. I took the last two weeks of it off, and spent every moment that I could with the kids and with Jeff. The boys enjoyed surf camp. We enjoyed the beach. We spent time with family, and with friends near and far. My sister gave me massages. We lazed around the house in pajamas. We took many trips to the library. We found a new sushi place. We finished the Lord of the Rings trilogy. We went to the pool at night. We debated what we would name our goldfish, if we ever got another one. We were peer pressured by the kids into buying a furry animal, but we said no. We used up our Wild Rivers passes. These kids love the wave pool. We went on dates with friends. We also Got Stuff Done, like eye exams and immunizations and cleaning up the garage. Anna now wears glasses. Drew only needs his for school. Jeff can now park in the garage. We made decisions about Mckenna, who is doing really well. We hired more help. We dreaded school starting again.
We are refining our life. We are making it better.
Bring on the homework.
xo
Tara