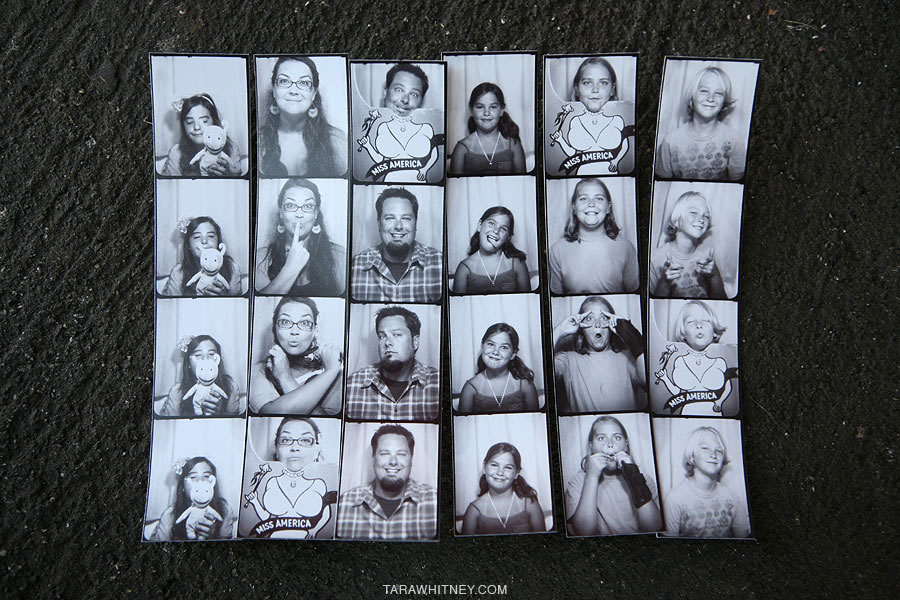 July is going to be pretty hard to talk about, seeing as how I can hardly remember what happened now. What day is it again?
It was the coldest July we have had in southern California in 100 years. I am not complaining.
We took a vacation, but we didn't go very far. (This photo was taken on the ground of the Orange County fair, after all of us took a turn in a photo booth.) I remember reading in a magazine years ago, about a great way to save money while going on vacation. The people in the article – they called it a "Staycation" and spent time at home and in their city acting like tourists. It was the perfect fit for us homebodies who live in an area full of things to do. We thought it would be perfect for Mckenna, who doesn't like flying or traveling. And it forced us to get out and do the things we have always said we would do. Like rent a boat, see a play in Balboa Park, go to the local water park, spend a day in Mission Beach, take the kids to a concert, do a food crawl at the OC Fair…
All in all the week we spent together was full of good memories, but it really brought to the forefront something else that is hard to talk about. Mckenna. I don't often talk about how hard it is to parent a child like her. I choose to focus on the good things, and each good thing is such a celebration that it is easy not to tell the whole truth about our life with her.
But…
Mckenna doesn't like doing things. Mckenna doesn't like to be in, what are to her, stressful out of the norm situations. Like vacations. Mckenna would be happiest alone in our house, with no noise except for the noise she creates. With full control of what she wants to eat and when, what she wants to do and when, and the remote control. Her natural tendencies lean toward an isolated hermit in the middle of nowhere. With a Target for dollar stop shopping. That is always empty, except for one cashier and her. Because of this, Mckenna tends to impede on the sense of ease and fun during a vacation, and what really became clear to me on this one is that we need help. What really became clear to me on this one is that my burning desire to have my family unit always together, may be actually tearing us apart.
Now that the younger three have surpassed her emotionally, we are in this impossible place. Parents to a child like Mckenna, but also parents to three typical children like Drew, Nathan, and Anna. They both need us equally as desperately. And as I stare, slightly stubbornly, down the barrel of parenting an adult with special needs, and the rest of my life, I start panicking. I don't know what this is supposed to look like. I don't know if I can do this. I certainly know I don't want to be doing it alone anymore. It isn't fair to the rest of them. I focus so much of my mothering time and energy on Mckenna, and the rest of them are so easy in comparison, that they get the last bits of me. The tired worn down please just make this easy for me bits of me. I don't want that for them. Yet, I don't know how to make a safe place for all of them, while giving each of them what they need. I have thought for so long that I can handle this. That I can be this mother to all of them. That I can make Mckenna happy or healed all while giving the others everything they need. And I can't. I am feeling my limits crash into me all the while fighting them.
The confusing thing with Mckenna is that there are moments of astonishing peace and joy for her, like when she sat at the front of the boat like a mermaid statue and smiled for an hour as the ocean splashed her face and the boat bobbed in the water, or when we walked out of the Train concert and she said she loved concerts and the next one she wanted to go to was Alicia Keys. Those are the moments that hold me over through the bad ones and make me sane, but they also tease me into believing that she can have MORE moments like that, if only I try harder. If only I give more. If only I fix her.
And I can't. She is not "fix-able". Whatever good moments she has, are most likely nothing to do with me. Just like whatever bad moments she has, are most likely nothing to do with me. They just are. They just exist for whatever reason the synapses in her brain allow them to exist in that moment. She is unexplainable and impossible to solve. Mckenna is not free. She is locked up and hidden from me most of her days and most of her life. Those moments that I cling to are few and far between, and yet I kill myself everyday to try and get more of them.
What I saw on our staycation broke my heart. I saw the five us of, wanting desperately to have the kind of time "normal" families can have, time to be free, and failing. And in that failing, feeling completely broken down in moments when she was broken down. And guilty for feeling that way. The flow of the vacation stops and everyone has to stop being who they are, to fit into the box Mckenna needs in order to function and feel less stressed. We are good at it. They are better – they have been doing it all of their lives. I saw my other three children sick to death of people staring at us, the curious public the unintended paparazzi of our outings. Usually our outings are broken up – we spend a lot of time at home in between recuperating. But with several days outside linked together, the staring and the issues involved became overwhelming. Everyone stares. Not just children. Adults, groups of people, will whisper and point and think I don't notice. I just want to be invisible. For me, getting stared at is especially hard. I think Anna hates it almost as much as me. Mckenna is the only one who doesn't notice. She thankfully doesn't have to feel that pain, but the rest of us do.
One of the reasons I fight my limits is because unless we are all together, I feel like we are not experiencing things to the fullest. If Mckenna stays home, I feel weird, off kilter, and guilty. I know that even if there are three hours of hell, she may have one second of bliss in whatever we are doing, and how can I deny her that? This is how we have ALWAYS operated. "Ohana means family – nobody gets left behind!" It is an idea Jeff and I have always had – and our family has flourished in it a lot of the time. But things are changing. Like I said – the other three have surpassed her emotionally. A lot of families have that, with older children and maybe a surprise younger sibling. But it isn't like having a younger sibling who is a toddler. Because Kenna will never grow out of this. I don't want them to grow up resenting us, or her, for what we did when we thought it was what needed to be done.
And so I am here, trying to figure out the best way possible to go forward for our family. Thinking of Mckenna. Of Drew, Nate, and Anna. Thinking of Jeff and I. How can we make this new time in our lives work in the way it has worked in the past? Maybe that means getting daily in home help. Maybe that means bringing an aide along with us to care for Mckenna so that we can focus more on the other three. Maybe that means leaving her at home while we do the things "normal" families get to do, with no one staring at us, and not having to mold into her  box, just getting to be free of the locked up parts of her brain for awhile. I know for certain, it means dropping a lot of the preconceived notions I have had for her life and ours.
I am scared. I am uncertain. I am tired. I have cried a lot this month. I wish more than anything for my family to be able to be together, all the time. But what I want even more is for each of them to get exactly what they need from me.
And yet, there are so many reasons for us to be at ease, and happy, and there is a sweet escape in that. We are in love, so in love. We have this great big family. They mean everything to us. We like who they are. It is summertime, and we have no major responsibilities. We get to take them to basketball camp and surf camp and horse camp. We get to watch them explore the ocean in a boat, their chins hardly poking out above life jackets. We get moments of extreme lucidity from Mckenna, where she asks us how to smile. We get to hold hands and scream out songs we sing together in our car, outside at a live concert with twinkling lights and cell phones held up in the sky. We get to nudge to the front of the crowd to show Anna the newborn piglets and listen to her squeal just like them. We get to stay up late in our hotel room, and have a midnight dinner at Denny's. We get to enjoy possibly one of the last summer's that Drew will really want to spend time with us instead of his friends. We get to watch him spread his wings. We get to float on our backs in the pool, while holding hands with Nathan, staring up at the clouds. We get to cuddle him at night, because he asks every single night for one of us to cuddle him. We get to plant strawberry plants together in wooden containers in the backyard.
We get to simmer in the life we have made for ourselves, with all the good and bad.
We are the only ones who fully understand what it is like to live with Mckenna. We have each other to lean on. And most of the time, that is enough.
xo
Tara