over the past month i have been working feverishly behind the curtain to make some changes and updates to our business.  i cant really call it MY business anymore, because jeff is so much a part of the back end of things that its really his too. he is so good at all of the things i am not good at. like bookkeeping and finances and all of that stuff that isnt fun or pretty. i get the fun and pretty stuff (shooting, editing, brand design, blogging) and he does the business side. we are a good pair.
i cant hold it in any longer! the thing i am most excited about unveiling is … (this is screencapped from my site)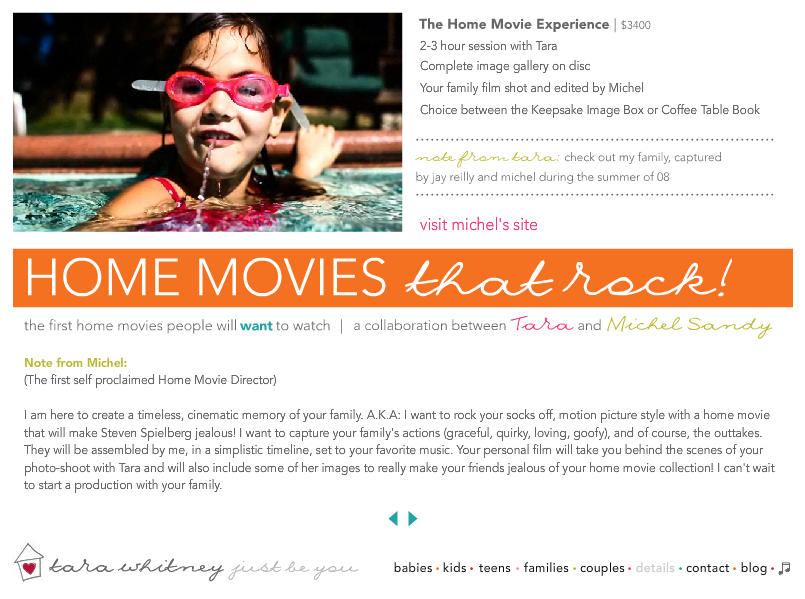 a totally new tara whitney "experience". isnt it awesome??? you couldnt wipe the smile off my face right now even if you smacked me. i am that excited about this.  i had such a GOOD time with jay reilly and michel (pronounced micheal). i absolutely TREASURE the movie he created of my family. TREASURE. its priceless. amazing. moving. makes me cry every time i watch it. everyone that has seen it has been bowled over with the coolness. to be able to collaborate with michel and offer the same experience to my clients makes me want to jump up and down on my bed! i cant wait to start creating these with him, and you.
another change this year is in the form of some of my offerings. i am now offering wall galleries with my largest package. i have designed five different layouts guaranteed to have stunning impact on the walls in your home. you can choose from a standard gallery (where everything is printed and mounted on styrene) or you can upgrade to a deluxe gallery and have your images printed on canvas. after getting so much positive feedback for my own family photo wall, linked here, i knew it was something people desperately wanted, but couldnt always do on their own. i also think that my work really shines when shown this way-all of the little pieces of the session together on one wall tells a story and makes an impact.
so, you can go ahead and check out www.tarawhitney.com for the updates and changes. and for anyone that is currently on my waiting list or for anyone that has been waiting for me to re-open my calendar for bookings just shoot me an email and we will get things rolling! (wait listers, i will be emailing you) :)