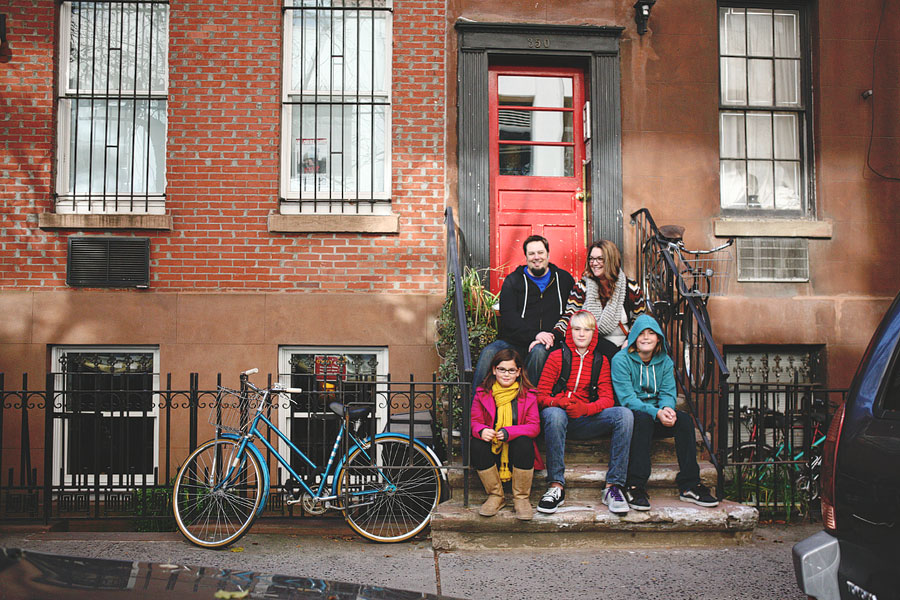 Manhattan.
We were walking and I saw this place and nobody else wanted to stop and take the picture but I wouldn't take no for an answer.
I love this picture. I feel that it perfectly captured us, together, on this trip. I am thankful Emily was there to capture so many shots of us together. It is a beautiful photo of my little family of five. But it also makes my heart ache. For the one who stayed home.
I know that we did the best thing for her, it was what she wanted after all. She can hardly tolerate a flight to San Francisco, which is just about an hour. Six hours in a plane to New York City would have been torture for her, and anyone seated near her. Even more torturous for her would have been the crowds, the noise, the tiny hotel room, the walking, the subway, the spontaneous but necessary change of plans when things didn't go the way we thought or we make a mistake.
I also know that the other children need time away – time for us to focus solely on them – time that doesn't revolve around Mckenna's specific and demanding needs, and instead is just about THEM. What we can experience with them. What we can teach them. What we can do as five people who want to see the world. I know that when it's just us and them, I can do things that I never get to do. I can talk to them and notice them more. I simply have more to give. The ebb and flow of the five of us is so….easy. And uncomplicated. Even on vacation. Even in a place as intense as this. That is good for them.
Emily and I talked about how different our travel experiences were – her with little ones and mine closer to the teen side. How these three can pack for themselves, get ready themselves, tie their own shoes, hold their own jackets. How these three don't need to be herded and kept close by. They know not to wander. They are so independent. She said to me, "You guys are so relaxed." I was like, surprised, when she said that. I remember kind of blinking, and nodding, and then smiling because she was right. And I hadn't noticed. And that in itself is a gift. To be able to travel, with children, and feel relaxed.
So then there's Jeff and I as a couple. So immersed in our schedule every day, in what we want to do to make our lives work, in Mckenna's behavior therapy and her school goals and her non compliance and her spontaneous mood changes and whether or not she is sleeping and brushing her teeth. And that is just her! We are also completely immersed in the others'. Their school schedules, activities, homework, playtime, late night teary talks, food making, and the list goes on and on and on. I mean, multiply all of this craziness by four. We literally go! go! go! all day long, every day. Every. Day. Then add in our own needs, our relationship as husband and wife, our jobs, and our home, and we could literally spend every second of every day tending to someone or something else. That doesn't even include time we'd like to spend with friends or family.
Our lives are full. Full in a good way, but still so very full. I am not complaining. I want this life.
I know all of us are leading full lives, we are all doing the best we can with what we have. The difference for us is Mckenna. Having a child like Mckenna living in your home is really difficult. It is hard because it pushes you to the limits of what you think you can handle, of your patience, and of what you think you can sustain. Our family needs people who can help us with that. This year has been all about finding those people. We know we can't do it alone, all the time. When we find someone who is willing, we are intensely grateful for it. We now have people in our home working with Mckenna or simply being with her four days a week, a few hours at a time. So we have created a support system, but we are still tweaking and building upon it. It feels so good to know that there are people out there we can depend on, who want what we want for our daughter. Although we know one of our options when we go on vacation is to hire a caregiver to stay at our house with her, it just feels good knowing that we have support from family, who rearranged their schedules and took her into their lives for a week. We would not have been able to have this experience without them.
I know that we did what was needed for her and for the rest of us by having her stay with my family while we were away. I know she was loved by them and taken care of. Not only that, but they got to build on their relationship with her. My stepdad got time cuddling her on the couch. (A rarity). My sister got time taking her out to breakfast. Everyone who helped had a chance to bond with her in a way that doesn't happen when we are ALL around. Mckenna thrives most one on one.
We wanted a connection to her, even from far away. She hates talking on the phone so we couldn't do that, but we got updates from family and that helped. Being at the Macy's Parade and hearing from my mom via text that Mckenna was sitting in front of the television with her breakfast, watching it from California, connected us. Another text from my sister with a photo of Mckenna sitting on the couch, watching a Disney sing-a-long video, surrounded by adults visiting on Thanksgiving, just to let us know she was happy. Hearing from my brother that he was just about to put her to bed, and she was moving through her computer time routine. Bringing Mckenna's beloved Uniqua with us on the trip and taking photos of her everywhere – Uniqua in Times Square, Uniqua sleeping in bed with the boys, Uniqua eating pizza, Uniqua riding the subway, Uniqua next to a Picasso. We texted some of them to share with her and plan to make her a book for Christmas: "Uniqua takes Manhattan!!"
This is not the blog post I was planning on. This all just pretty much fell out of my brain. I thought I was just sharing a photo. It feels good to put it out there, and let it go. I am acknowledging these feelings, and sharing them so that others might understand better. I have a strong desire to help people understand what it is like to raise a child with different needs, what she goes through, what we go through. I want anyone reading to see that it was amazing for us to get the time away, but also understand how there is always a hole where she is missing. We were minus one. How confusing and sad that can be. How there is light and dark.
I am divided. I want what cannot be. I so enjoyed my time away, my easy, relaxed time away. But I wanted her there. I wanted her to want to be there. I wanted her ABLE to be there. And she cannot. She does not currently have the ability to withstand the stress of a family vacation. We have two families now – one with her and one without her. And they both operate differently. I wonder if it will ever get easier.
There can be so much judgement in the world of special needs children and adults. They can be pigeon holed easily. What works for one MUST work for the other, and if it doesn't, you are doing it wrong. Decisions parents make are judged as right or wrong, good or bad. We do it to ourselves. In reality, each of these people is just as different and unique as all of us. Each one has their own specific needs, even if they are all grouped into one syndrome or disorder. Each of us, as their parents, have to figure out what those needs are. We have to truly see our children, see what they need, drop the conventions and "what will people think", and then let our own wants go by the wayside.
I guess I just want anyone reading this to know how we struggle, we question, we love, we celebrate, we try, we fail, we yell, we cry, we laugh, we mourn.
How it's all we have.
Post edit: I want to make it clear that I don't feel guilty at all. My emotions come from wishing for things that cannot be, and missing her. Thank you for all the wonderful and supportive feedback.