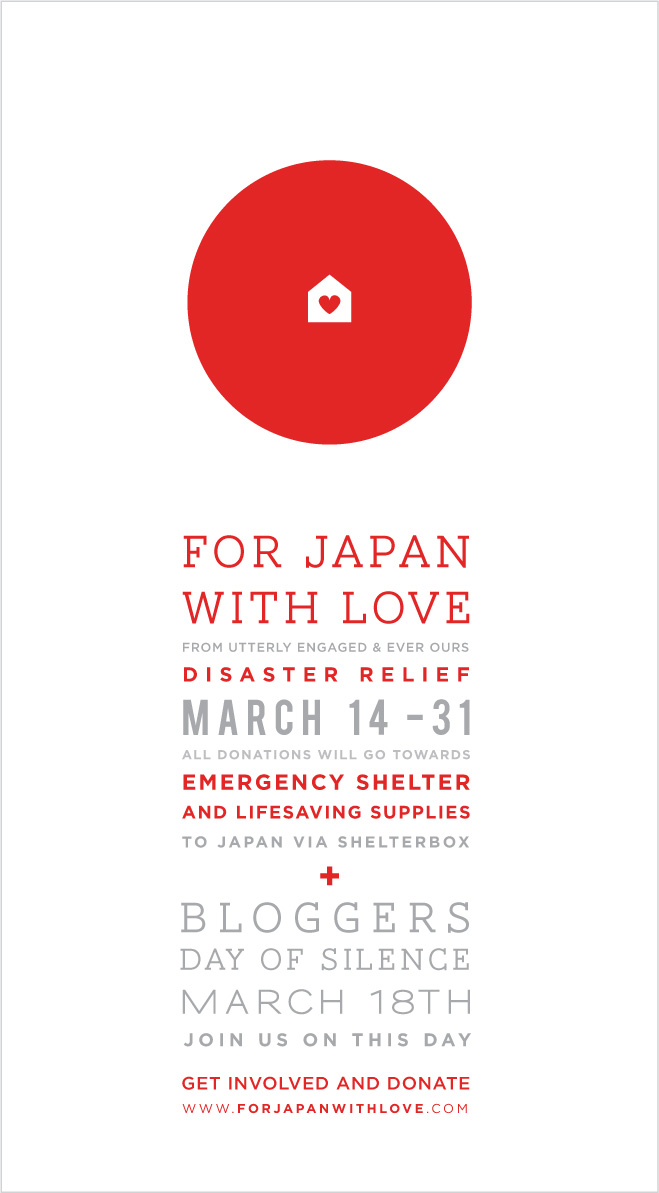 Japan is on my mind. I can't stop thinking about how there was probably someone very  much like me who was affected by the earthquakes and tsunami. Someone who has four kids and a husband she loves. Someone who is a photographer and a blogger. Someone who was drinking coffee while she waited to pick up her kids from school.
And then I see the tsunami footage, and the wreckage that she is now living in, and I imagine everything she has lost, and I want to help her. I want to help her because she could be me.
Earthquakes are something we deal with in southern California. I live a few miles from the coast of the Pacific Ocean. A Tsunami could happen here. I look at my children, my house, my husband, our family and friends and cars and things and photographs and mementos, and I just cannot fathom having it all ripped away in the blink of an eye. I can't imagine losing everything. But it just as easily could have been me who lost everything.
It could have been you.
Since it wasn't, since we can still hug our children and sip our coffee and write our blogs, since we can still sit in our homes and call our friends and turn on the lights and cook dinner, we have a huge responsibility to help them.
I feel a huge responsibility to give in my excess.
So I am joining hundreds of other bloggers today in a day of silence, for Japan with love. (I just found out about this, so I guess I am not being entirely silent today).
Bloggers from Utterly Engaged and Ever Ours have organized to raise money for Japan. All donations will go towards emergency shelter and lifesaving supplies via Shelterbox.
From the Shelterbox donation page:
We've all seen the images and videos rolling in of the devastation from the Japan earthquake and tsunamis. While aftershocks and tsunami scares are still happening days later, the nation is in for a long long road of recovery. So far, the death toll is estimated to be 2,800. In just one town, 9,500 are missing. Not only do the survivors have to suffer the loss of loved ones, but as temperatures fall, electricity, water and food are now scarce to none. Many have tried to go back to their homes and to start picking up the pieces, only to find the tsunamis have plowed their homes down and there is literally nothing for them to come home to. Convenience stores have lines hours long and a limit of 10 items to each person. The second crisis has only begun and so many are left helpless.
We are not ones to sit and do nothing. While as much as we'd like to hop on a plane and fly there to help with the search and rescue, the immediate need for help for those in Japan is the dire need for shelter. This fundraising page is specifically geared to help with that. Utterly Engaged and Ever Ours have handpicked ShelterBox as the organization to donate to.
ShelterBox provide emergency shelter and lifesaving supplies for families around the world who are affected by disasters at the time when they need it the most. Each large green ShelterBox is tailored to a disaster but typically contains a disaster relief tent for an extended family, blankets, water storage and purification equipment, cooking utensils, a stove, a basic tool kit, a children's activity pack and other vital items. A whole box costs $1,000 (US), so we're hoping to raise enough to send 5 boxes.
Please join us. We know it won't save the nation, but we strongly believe every little helps. Whatever you can contribute, we truly appreciate.
Here's how you can help:
Donate by clicking on this link to For Japan with love or Shelterbox.
Share this on your own blog.
The initial goal was to make $5000, in order to send 5 boxes. The current total is over $30k. Let's get it even higher – let's send 100 boxes to Japan!