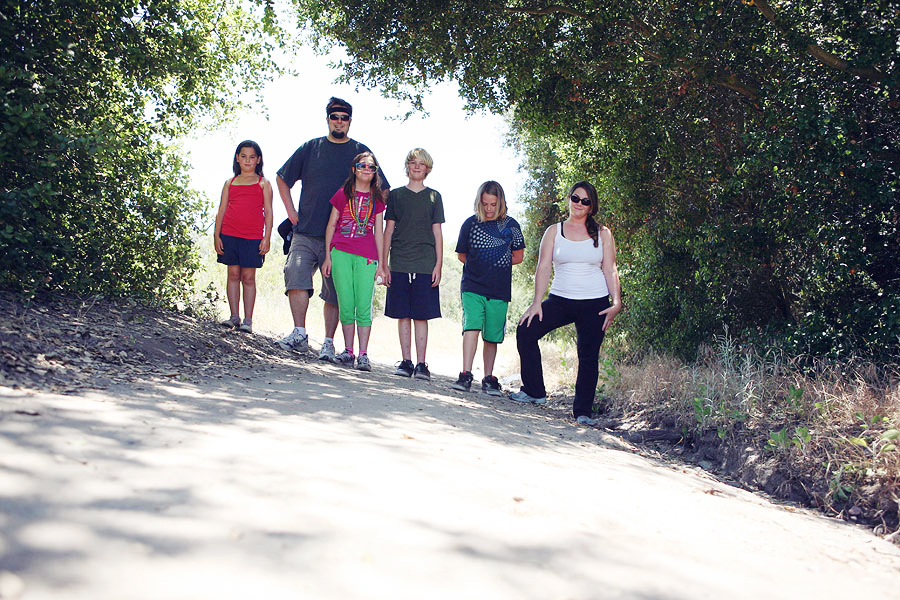 This picture makes me laugh and I don't like it and I love it all at the same time.
We were on a walk on a local trail. A trail I found a few months ago and have visited several times since. There aren't many areas locally with this type of tree cover and natural habitat. I LOVE it. We like to sneak off the trail and walk up the dried riverbed looking for treasure. It gets dark and spooky. They pretend to be in a pirate's cove. We bring our iPod and play it in a portable dock/speaker. We coax Mckenna, we challenge each other, we try not to let the whining get to us.
June is one of the months in the year that I look forward to. I love that we are nearing the end of the school year and that summer and freedom and sleeping in are upon us.
Anna ended first grade. We made a dolphin diorama for school. She showed off everything she learned and made, walking us around her classroom with her proud shy little face. She started reading chapter books. I catch her in bed, on the couch, in the backseat. She likes books about dogs and horses and girls. It reminds me of me. She sings constantly – remembering words to songs that I can't believe she can remember. Her favorite shirt is the blue one that says: Pony Rides 5 dollars. After a month in the pool, we have started calling her our brown berry – her olive skin just browns right up, no matter the 50 SPF sunblock, it laughs in my face. And she is just as scrumptious, as ripe, as juicy as a berry.
I love her.
Nate ended fourth grade. He is the tallest in his class. He towers over the rest of the group. Towers over the rest of his friends. I loved going into his classroom, he loved showing us everything he had created. He was giddy asking Jeff and I the questions that were tacked on the board – testing us – which one of us was not smarter than a 4th grader? He likes reading books about dragons. He likes to come home and put on his pajamas. It reminds me of me. His favorite spot on the couch is the corner, with his feet kicked up. I call him the accelerator – you can never hear any specific noise when the boys are rough housing, just grunts and giggles, but you can hear Nathan, he makes sure of it in order to get someone else in trouble. I am onto him but he doesn't realize it yet. He broke his arm falling off his bike just a week before school was out. He picked blue for his cast. When you tease him he bows his head, but you can see the smile on his cheeks, the sweep of his long hair, his freckles.
I love him.
Drew ended seventh grade. I think I may have witnessed the last time he will get out of the car and say "Bye, Mom. I love you." With a flip of his hair, shoving his phone in his pocket, hitching his backpack onto his shoulder. But I hope not. It never mattered how many other kids were on the sidewalk. I was always surprised by that. I always secretly loved that. He saved a years worth of English papers to burn in a bonfire at the start of summer. This was the first time his yearbook has been important. It reminds me of me. He carried it to school on the last few days, the only thing needed was that and a pen. He looked so big. It was filled with big sloppy girlie letters and declarations of awesomeness. I so wanted to read through every little bit, but they are his to savor. He picked out his own shoes for the first time. He didn't need me to help him, or show him what I liked. He knew just what he wanted. Black low top Vans with turquoise laces.
I love him.
Mckenna ended seventh grade, and for me the ending was like a dragged out, bumpy landing with an abrupt stop. We bounced and jostled and gripped the arms of our seats through this year of school, until suddenly, the wheels touched down. Not soon enough. But with relief. She has had issues at school – spitting and cursing at teachers, bathroom accidents, showing a lot of stubbornness and willfulness. Acting out in ways we rarely see at home. She is unpredictable yes, but she is predictable in her unpredictability for us. All of this is so unlike her, I know it is her way of telling me she has had it. I am hoping that two months off can help us to see what needs to change for her. Because not a week out of school, her entire demeanor has changed. She is less stressed. She gets to go slowly through her routines. She wakes up at ten or eleven. She spends a lot of time listening to the music on her iPod – literally sitting in her room for hours, playing the same songs over and over, singing as loud as she can, rewinding to get the words right. It reminds me of me. She likes to run errands with me because she can be in charge of the music in the car. She begged for weeks to go shopping at the mall. I told her as soon as school was out. Two days into summer, I took her to the mall and let her buy whatever she wanted. She wanted long dresses and pajamas from Justice. A pretzel and a cheese on a stick. A new Backyardigans plush doll. Kool-Aid lipgloss and a red rose hair clip from Claire's.
I love her.
I think this is my favorite time of the year. I revel in the lack of routine. The laziness. The open day. I love asking them what they want to do today, and then doing it. I love not having to shuttle them around to school. I love being home with them. I love that right now I can hear Mckenna belting out "Tomorrow" from the Annie soundtrack in her room. I love that Drew is off ice blocking with a group of friends. I love that Anna is tucked into my bed, watching James and the Giant Peach. I love that Nate is settled onto his favorite spot on the couch, playing his latest video game. We realized this weekend that we only have five more years with Drew until he heads off to college. Five years. Five. Years.
This is time for us.
Summer is ours.
xo
Tara
PS – If you joined in, please add a link in the comment section.