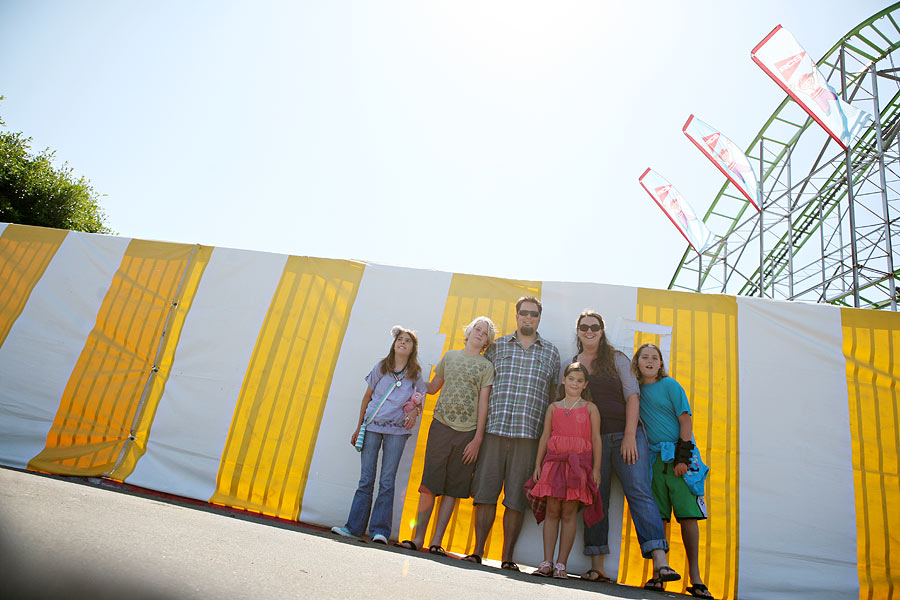 That is us – my camera resting on a pile of sweatshirts – self timer – outside of the fair – taken Sunday.
I haven't been online aside from Twitter updates on my phone for over a week. We have been enjoying the fruits of our local area with the kids – staycation! – everything from renting a boat in the Oceanside harbor to a Train concert at the Orange County Fair. I will be sharing photos from our vacation soon, along with a ton of client work that I have yet to post here.
I just wanted to update here quickly to say that I am back to work this week and answering emails again. If you have been waiting, you will hear from me today.
NEWS:
I am now booked through September – and I only have October and November left for the year. If you are thinking of hiring me before the Holidays, now is the time. Fall always books up in a blink.
MISC:
My heart is so full after having read through every single comment on the post below, about Miss Mckenna. She can be so difficult and so locked up that when we get a moment where she opens up to us we rejoice. You all rejoiced with me, and I just can't say enough how much it means that so many of you get it too. I am stunned at the reaction – can't believe it. Thank you.
You will hear from me again soon.
xo
Tara